There are so many obstacles to independence – and the availability of suitable housing for wheelchair users is one of them.
WHEN YOU LIVE with a disability, you value the independence that you have, so when you find yourself relying on people in every day situations, it can become incredibly frustrating, clouding your decisions to visit new places or to try new things.
While access for wheelchair users and disabled people has been a legal requirement for any public buildings constructed since the Building Regulations Acts 2000, there are so many ways in which the needs of approximately 18% of the population are still being ignored.
As a wheelchair user and the creator of Legless in Dublin, my perspective leans more towards the needs of wheelchair users but once you have access on the brain, you soon realise that disabled facilities for all disabled people are often an afterthought and, as a result, are poorly designed and poorly promoted.
Lack of accessible housing puts a stop to independent lives
While access and inclusion are becoming priorities as music festivals expand and the number of new restaurants and bars opening across the city increases, there are even bigger issues at hand, like the lack of accessible private or social housing, that restrict disabled people from living fully independent lives.
According to the results of 2013's Triennial Housing Needs Assessment, 4,000 disabled people are on waiting lists for social housing, making them the single largest group with a specific housing need.
With the entire country in a housing crisis, the limited amount of accessible houses with the correct facilities means that disabled people are left relying on their families for accommodation or living in unsuitable houses.
This alone is a huge cause of concern for the mental health of wheelchair users, delaying the rite of passage from young person to adult as a first time renter or first time buyer, and infringing on opportunities to move to a different county or closer to places of employment.
As we wait on the results of this year's study, expected to arrive in early 2017, councils across the country have been setting up Disability Steering Groups over the last 18 months to help implement the National Housing Strategy for People with a Disability.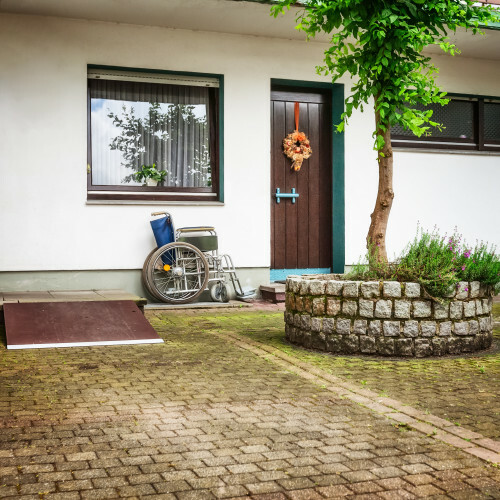 The lack of wheelchair-accessible housing is a huge impediment to independence for wheelchair users.Source: Shutterstock/Irina Fischer
The steering groups include representatives from the councils, the HSE, voluntary housing associations and disability representative groups and their aim is to create strategic plans that mirror that National Strategy but to also highlight specific housing needs of those registered on their local council's social housing list.
The smallest obstacle can throw your day off course
Because the number of accessible houses available is so limited,  the Irish Wheelchair Association encourages its members to register for social housing, even if it is not immediately required, through their Operation Sign Up campaign to shorten the waiting period for a house. We always need to plan ahead; that's part of the package when you're disabled.
Outside of the home, if you use a wheelchair, the smallest obstacle can throw your day off course, with unreliable train services, inaccessible buildings, broken lifts, lack of disabled parking in built up areas or poorly paved footpaths all playing a role.
If anything like that was to happen to a non-disabled person, it would delay them for a few minutes until they come up with an alternative plan. If you have a disability, there is rarely an Option B and, unfortunately, that's the situation wheelchair users often find ourselves in. Without an Option B, we are stranded, stuck or desperately late.
When this happens, it means that we are left entirely in the hands of somebody else to help out and when you cherish your independence the way that we do, that always feels like defeat.
You keep a sharp eye on the ground
There's a level of self-management that comes into play when you are in a wheelchair. You observe your surroundings and take note of the access facilities for future reference and you keep a sharp eye on the ground, taking note of uneven and broken pathways.
We have a detailed store of knowledge about our hometowns that would make any councillor blush. Everywhere we go requires planning, often exhausting our patience, so when things go wrong, like being on a waiting list for a house for an extra year or the lift in your train station breaking down for the second time in a month, our frustration can go two ways; anger or action. Personally, I prefer action.
How to help
The needs of wheelchair users are varied and thanks to the IWA, which has 20,000 registered members and 57 day centres dotted around the country, they provide a number of services and facilities, like driving tuition schools and accessible bus services, that assist with and encourage independent living.
By purchasing an Angel pin, your money will help improve and increase the services provided to IWA members because the cities and towns that we live in have yet to catch up with the pace that we're setting.
While things are getting better in some ways, our independence status changes everyday depending on what goes on around us, making the services that the IWA provide invaluable.
Access isn't just about putting in a ramp, it's about our independence and that's what we need to remember.
Louise Bruton is a freelance journalist and founder of LeglessinDublin and ambassador for the Irish Wheelchair Association's Angel campaign.
Source: http://www.thejournal.ie